Vanessa and Tommy's Westwood Country Club wedding ended with a double rainbow. Yes, for real; I can't make this stuff up.
From the first time I spoke with Vanessa, when she told me she wanted vibrant, real photos of her wedding, I knew we were a good fit to work together.  We met up on the wedding day at the Hyatt Place in Crocker Park where she was getting ready with her mother, sister, and bridesmaids. Her mom fussed over her as she slipped into her wedding dress. She decided to wait to put on her veil at the church. So we headed to St. Christopher Parish, and her mom helped her put on her veil there.
Guests began filtering into the church, and Tommy was absolutely beaming as he greeted them at the door. Groomsmen handed out programs, and Vanessa hid in the bridal suite with her mom. Finally, it was time to walk down the aisle with her dad. Watching Tommy take a deep breath and try not to tear up when he saw Vanessa was beautiful to see. After the ceremony, they drove away in a vintage Jaguar–don't ask me what year, because I don't know. I just know it was way cooler than my car 😉 It was rainy and a bit dreary, but that did not dampen the excitement and love between these two. We did wedding party photos and bridal photos at Westwood Country Club, then headed inside for their epic reception.
The best part of the day, by far, was the double rainbow at sunset. It was so beautiful, and we were able to get outside at just the right time to get a few photos under it. Scroll down for some of my favorite images from Vanessa and Tommy's classic Westwood Country Club wedding.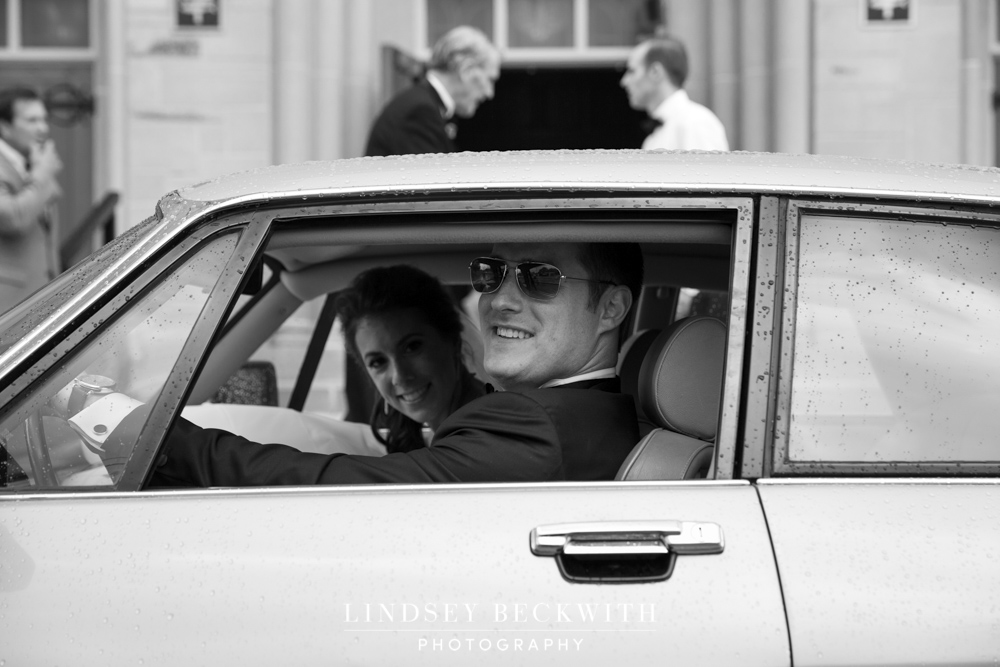 Congratulations Vanessa and Tommy!
Vendors:
Wedding: St. Christopher Parish
Reception: Westwood Country Club
Flowers Al Wilhelmy
Cake: Wildflour Bakery